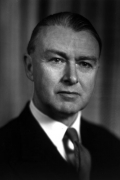 Awards
Honorary Degree (1980)

LL.D.
Doctor of Laws
Commencement
Bloomington, Indiana
Presenter: John William Ryan
About Charles Ralph Boxer
Charles Ralph Boxer has enjoyed an extraordinarily prolific and varied career as a soldier, historian, and university teacher. He was born in Sandown on the Isle of Wight in 1904, and was educated at Wellington College and the Royal Military College at Sandhurst. From 1923 to 1946, when he retired with the rank of Major, Charles Boxer served in the British army. He was wounded early in World War II, and spent four years as a P.O.W. of the Japanese. In 1929, while still in the early days of his military career, Charles Boxer published an important monograph. Since that time, Professor Boxer has published over 270 books and articles on varied and far reaching research, a scholarly production which has earned him high distinction in the career he took up when he retired from the army, that of university teacher.
Professor Boxer's research and writings deal with European overseas expansion and colonization of various parts of the world: the Far East, Latin America, and Africa. His studies of the European maritime empires are so comprehensive that Professor Boxer is claimed as much as a specialist in Portuguese history as in African history. His substantial scholarly research and writings in the field of East Asian studies, particularly those dealing with Japan, China, and Macao, constitute a major contribution to our understanding of that region's culture and history.
Charles Boxer moved into academia at its most prestigious levels. In 1947 he was appointed the Camoens Professor of Portuguese at the University of London, King's College, a Chair he held almost continuously until his retirement in 1967. The brief interruption in this tenure occurred in 1951 when Charles Boxer served for a year as Professor of History of the Far East at the School of Oriental and African Studies, which is also part of London University. He has been a Visiting Professor in the History department of Indiana University in 1967-68, and from 1973 to the present. Having held the appointment of Professor of the History of the Expansion of Europe at Yale University from 1969 to 1972, Charles Boxer is now Professor Emeritus of Yale. The University of London has also so honored him. Nor are these the only honors Professor Boxer has won for his distinguished career as a scholar and historian. He has been recognized with honorary degrees from the Universities of Lisbon, Utrecht, Bahia, Liverpool, and Hong Kong. He has been awarded the Order of Santiago da Espada, the Grand Cross of the Order of the Infante Dom Henrique (both from Portugal), and he is a Knight of the Order of St. Gregory the Great.
Indiana University has been especially fortunate in its association with Charles Boxer. His comprehensive and wide-ranging knowledge, together with the interdisciplinary nature of his understanding, has greatly benefited not only students of history but also those in the African Studies Program and the department of East Asian Languages and Cultures. The legacy of a great historian and a wise teacher is rich enough, but Indiana University has been even further endowed by the Lilly Library's recent acquisition of Charles Boxer's extensive private library. The entire university community, as much as the wider world of scholarship and international understanding, will continue to derive a rich and endless benefit from the career and works of Charles Ralph Boxer. Professor Boxer lives in England and is married to Emily Hahn, the well-known writer. They have two daughters.