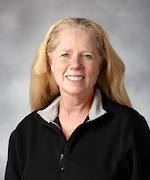 Awards
School of Public Health John R. Endwright Alumni Service Award (2007)
About Rin Seibert
Rin Seibert is recognized as a national leader in collegiate recreational sports, and has been at helm of recreational sport leadership at Valparaiso University for nearly three decades. She also holds titles as Assistant Director of Athletics, and adjunct instructor of physical education. Since her arrival to Valpo in August 1980, her visionary leadership has resulted in model programs respected by peers through the profession. She oversees many professional, graduate assistant and student staff, and is actively involved in cultivating and maintaining partnerships with the Department of Physical Education and the Department of Intercollegiate Athletics.
Prior to her tenure at Valparaiso, Seibert served as Assistant Director of Physical Recreation at Marquette University in Milwaukee Wisconsin, from July 1979 to August 1980. From August 1978 to July 1979, she served as a Graduate Assistant for the Division of Recreational Sports, Indiana University-Bloomington.
Seibert is active in many professional and community organizations including a 28 year affiliation with the National Intramural and Recreational Sports Association (NIRSA). Her NIRSA involvements have included memberships on the Standards, Aquatics, Basketball, Professional Development Committees; Past Chair of NIRSA Aquatic Committee; participation at the NIRSA School of Recreational Sports Management; attendance at the NIRSA Executive Institute; participation on the Region III Workshop Committee; the Indiana Recreational Sports Association (IRSA) State Workshop Host on three occasions; the IRSA State Workshop Committee Chair; the IRSA Scholarship Committee; Past President of IRSA; and many presentations at NIRSA, IRSA, Big Ten, state, and regional workshops. She has also served as an External Consultant at the University of San Francisco.