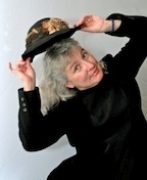 Awards
School of Public Health John R. Endwright Alumni Service Award (2007)
About Elizabeth J. Monnier
Elizabeth Monnier is a founding member and current Artistic Director of the Fort Wayne Dance Collective (FWDC). A 1977 graduate of Indiana University's Modern Dance program, Liz is the recipient of numerous arts awards including the Arts United of Greater Fort Wayne, as well as a Margaret Ann Keegan Award for excellence in the arts in education, and several Philo T. Farnsworth awards for her work in video production for public access television. Monnier has studied professionally with internationally renowned artists including, Alwin Nikolais, Joe Goode, Remy Charlip, and Ruth Zaporah.
Since 1985, Monnier has been instrumental in bringing to northeast Indiana audiences, cutting edge choreography from companies including Philobolus, Urban Bush Women, Garth Fagan Dance, and the Trisha Brown Dance Company. In her role as arts advocate, the FWDC became a part of the Indiana Arts Commission Artists-in-Education Program, which expanded the organizations' ability to take dance and the arts statewide. As the Artistic Director of the FWDC, Monnier has been a vital force in promoting the youth Outreach Program, which serves social service agencies with dance other related arts such as drumming, poetry, and puppetry. The "Identity Bridge" program was chosen as a 2005 'Coming Up Taller' semi-finalist by the President's Committee on the Arts and the Humanities and its partner agencies, including the National Endowment for the Arts and the National Endowment for the Humanities. Under Monnier's leadership, the FWDC continues to serve over 26,000 children, youth, adults, and adults with disabilities, in the greater Fort Wayne Community.
As a dance educator for over 25 years, Monnier has also served as Adjunct Dance faculty (Indiana Institute of Technology) since 2004. During her career, she has held several other academic teaching positions at various institutions including St. Francis College in Fort Wayne, Taylor University in Fort Wayne, West Chester University in Pennsylvania, New Mexico University in Los Cruces, New Mexico, and the Indiana Business College in Fort Wayne. She is the holder of several grants representing many dance initiatives, and she has written several regional and national publications.