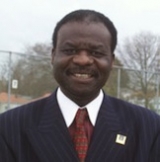 Awards
School of Public Health John R. Endwright Alumni Service Award (2010)
About Andrew Kanu
Dr. Andrew Kanu received three degrees from Indiana University including a bachelor's in general studies in 1989, a master's in public health in 1993 and a Ph.D. in health and safety in 1997. Prior to his education at IU, he attended the University of Sierra Leone in West Africa where he studied chemistry and biology. Dr. Kanu has also completed post graduate studies at Harvard Graduate School of Education and Oxford University.
Upon receiving his doctorate, Dr. Kanu joined the faculty at Virginia State University working for both the Department of Health, Physical Education, and Recreation and the Graduate School. He currently serves as Interim Dean for the School of Liberal Arts and Education.
Dr. Kanu has received professional awards and has been active in a number of professional organizations including the National Council for Accreditation of Teacher Education (NCATE), Council of Colleges of Arts and Sciences, the American Association of Health, Physical Education, Recreation and Dance (AAPHERD), and the American Association of Health Education (AAHE).