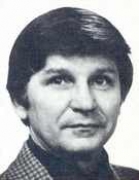 Awards
School of Public Health W.W. Patty Distinguished Alumni Award (1988)
About Walter Paul Kroll
Walter P. Kroll was a Commonwealth Professor Emeritus of Kinesiology at University of Massachusetts-Amherst, where he retired in 1995. He also was the university's dean and former chair of the Department of Exercise Science and a member of the American Academy of Physical Education.
Kroll first served in the U.S. Army in the 418th Med Co. during the Korean War. For his service, he was awarded the National Defense Service Medal and was honorably discharged at the rank of private first class in the Army Reserves in 1961. He graduated form Northern Illinois University and earned his master's degree at University of Illinois and doctorate at Indiana University.
He first worked on the faculty at Fort Hays Kansas State College (1959-1963) and University of Texas (1963-1967) before joining the Department of Exercise Science (now Kinesiology) at UMass-Amherst in 1967. During his time at Amherst, Kroll was appointed the first Commonwealth professor and became a pioneer in his field. He learned computer programming and applied it to his studies for implementing multivariate statistical techniques to questions on the role of personality in athletic performance. His book, "Perspectives in Physical Education" has been used as a popular college textbook for many years. While his research focused on sports psychology, applied statistics and measurment, and sports history, Kroll is best known for his work in motor integration, advancing the use of oscilloscopic electromyography to study the role of the nervous system in the timing of rapid human movements. Kroll's exemplary work allowed him and his colleagues to develop patterned electrical stimulation, a treatment used to treat stroke, cerebral palsy, and head injury patients. This technique allowed these patients to regain some movement in paralyzed limbs. Throughout his career, Kroll was a sought-after speaker and published over 100 research articles. Indiana University bestowed the School of Health, Physical Education, and Recreation W.W. Patty Distinguished Service Award to Kroll in 1988.