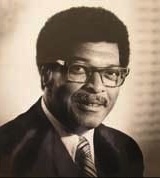 Awards
School of Public Health W.W. Patty Distinguished Alumni Award (1992)
About Robert H. Kirk
Robert H. Kirk is a professor emeritus of health and safety at the University of Tennessee, having retired in 2003. He holds a bachelor's degree in health and physical education from Fisk University (1953) and a doctorate from Indiana University (1960). Prior to enrolling at IU, Kirk was a teacher in Murfreesboro, TN, and served as a U.S. Army Railroad Master during the Korean War.
He first joined the faculty at University of Tennessee in 1967 as an associate professor, but later became the first African-American full professor in the university's history to receive tenure and head a department at the school. Dr. Kirk was the chair of the Division of Health and Safety, along with acting as the Director of the University of Tennessee Safety Center, where he improved the quality of its graduate programs. Prior to his tenure at Tennessee, Dr. Kirk taught at Fisk University, Grambling State University, Alabama State University, Southern Illinois University, and Southern University at Baton Rouge.
Dr. Kirk has been heavily involved in many local organizations and activities, including member of the Board of Trustees of Emory and Henry College;
Executive Secretary of the Knoxville Black Officials Coalition; member of the Webb School Board of Trustees; member of the Board of Directors of Fort Sanders Regional Medical Center, Fort Sanders Health Alliance, and Covenant Health; member of the Board of Directors of AAA of East Tennessee; member of the Knox County Jury Commission; Co-Chair of the Knoxville/TVA Human Relations Council; one of the original members of the East Tennessee Foundation Board of Directors; charter member and Co-Chair of the Board of Directors of Town Hall East; and the first African-American Commissioner of KUB. His involvement in state organizations include positions as the Chair of the Tennessee Department of Education Driver and
Traffic Safety Framework and Curriculum Revision Committee; Chair of the Tennessee National Teacher Examination Standards Panel; Director of the Tennessee Department of Education Health Curriculum Guide Revision Project; Director of the Tennessee Health Education Project; member of the Tennessee Board of Licensed Professional Counselors, Marriage and Family Therapists, and Clinical Pastoral Therapists; and a consultant and self-reliance program developer for the Tennessee Emergency Management Agency. His roles in national organizations include having served as President of the American School and Community Safety Association and the American Academy of Safety and in several leadership positions with the National Safety Council on the Board of Directors for the National Commission Against Drunk Driving.
He has been rewarded with many professional awards for his career, including induction into both the University of Tennessee African American Hall of Fame and the Safety and Health Hall of Fame International, the W.W. Patty Award from Indiana University, and the Distinguished Service to Safety Award from the National Safety Council. In addition to his work in education, Dr. Kirk established and operated Kirk's Market and BBQ, Kirk's Restaurant, and Hilltop Garden and Nursery in Knoxville.