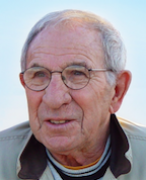 Awards
School of Public Health W.W. Patty Distinguished Alumni Award (1995)
About Anthony Annarino
Dr. Anthony A. Annarino was a professor emeritus of kinesiology at Purdue University and a faculty member from 1951 until his retirement in 1986.
A Pennsylvania native, Dr. Annarino served in the Air Coprs from 1942 to 1945 with the 465th Bomb Group in Italy. After his military service, he attended Slippery Rock University, where he graduated with a bachelor's degree in 1948. Next, he went to Indiana for his master's degree from Purdue University in 1951 and his doctorate from Indiana University in 1961.
After graduation from Purdue, Dr. Annarino joined its faculty in the Health and Kinesiology Department, where he would eventually rise to full professor. His career also includes positions as a visiting professor at World Campus Afloat, Catholic University (Chile), Kiel University (Germany), and Eastern Michigan University. Dr. Annarino also consulted on developing curriculums at numerous school districts and universities. In addition, he was a Peace Corps trainer, athletic coach, and a YMCA physical director.
Dr. Annarino was the author and co-author of fourteen books and over 90 professional articles. He served as president for Indiana Association for Health, Physical Education, Recreation and Dance (1961-1962), president of Midwest District for American Alliance for Health, Physical Education, Recreation, and Dance (AAHPERD) in 1973-1974, and national president for AAHPERD (1985-1986). His distinguished career brought him many awards including the Outstanding Alumnus, Slippery Rock University, 1972; W.W. Patty Distinguished Service Award, Indiana University, 1995; and Purdue Outstanding Teacher in 1975, 1977, 1979, and 1980. Dr. Annarino was selected as the first Midwest Scholar in 1984 by the Midwest AAHPERD, In 1999, he was inducted as a charter member in the Book of Great Teachers at Purdue University
He passed away in 2010.