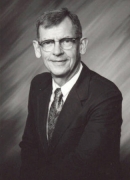 Awards
School of Public Health W.W. Patty Distinguished Alumni Award (1996)
About Edward J. Koenemann
Edward J. Koenemann is the former Director of Vermont State Parks, which he served in the role for seventeen years. He attended Indiana University, receiving his B.S. and M.S. in Recreation in 1957 and 1958.
After IU, Koenemann first became a recreation specialist at the Vermont Department of Recreation until 1961. He returned to Indiana to become the supervisor of Fulltime Centers, Public Recreation Commission in Evansville and later its superintendent of the Evansville Parks Department. Koenemann was hired as the Vermont Director of Recreation in 1968. Later, he was promoted to Director of Planning Division in the Vermont Agency of Environmental Conservation in 1974 and became the Director of Vermont State Parks in 1981. Throughout his career in Vermont, Koenemann also acted as a part-time instructor and adjunct professor at Lyndon State College, Johnson State College, and the University of Vermont. He retired in 1998.
Koenemann was active in national and state organizations, serving in a variety of leadership roles. He served on the boards of Indiana Parks and Recreation Association, New England District Council of NRPA (National Recreation and Park Association), National Council of NRPA, American Park and Recreation Society, National Society for Park Resources, Vermont Certification Board, National Association of State Park Directors, National Council on Accreditation, and the NRPA Board of Trustees. Koenemann was the president for the NRPA for the 1993-1994 calendar year. In addition, he won many awards for his work, including the Theresa S. Brungardt Award for Outstanding Service, Vermont Recreation and Park Association (1981), Founder's Award for Meritorious Service, National Society for Park Resources (1986), Distinguished Service Award, National Association of State Park Directors (1992), Cornelius Amory Pugsley State Medal, National Park Foundation (1995), Willard W. Patty Distinguished Alumni Award, Indiana University (1996), and the "Legends" Honor, American Academy for Park and Recreation Administrators (2000).