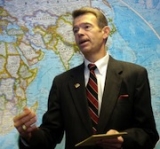 Awards
School of Public Health W.W. Patty Distinguished Alumni Award (2000)
About G. Daniel Howard
G. Daniel Howard is the former chancellor of Arkansas State University in Jonesboro, AR. He is also a former board member of the American College of Education. Prior to his term at ASU-Jonesboro, Howard was the vice president for university administration and international relations at the University of North Alabama. Among his administrative achievements at North Alabama, Howard has been cited for successful enrollment management initiatives and development of the international program that grew from less than 40 students to more than 1,000.
He earned his bachelor's degree from Manhattan College, then two master's and two doctoral degrees from Indiana University. Howard's continuing education has included the Institute for Educational Management at Harvard University, the Educational Leadership Institute at Indiana University, and the Williamsburg Development Institute, along with several professional certifications.
During his 30-plus years in education, Howard has served as a full-time faculty member, a director of a hazard control program, a dean of enrollment management, a researcher and grant administrator, a vice president and provost. In addition to North Alabama, he has held positions at Indiana University, Indiana State University, and two institutions in the State University of New York system. In addition, Howard has authored more than 80 scholarly publications.
Howard has won numerous awards, including the W. W. Patty Distinguished Alumnus Award from Indiana University, the Alumni Friend of the Year from the University of North Alabama National Alumni Association, and Outstanding Administrator of the Year from the Alabama Association of Foreign Language Teachers.