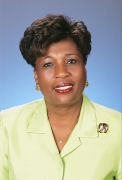 Awards
School of Public Health W.W. Patty Distinguished Alumni Award (2004)
About Bertha M. Cato
Dr. Bertha Cato is an Associate Professor in the Tourism, Recreation, and Sport Management Department and former Associate Dean of the College of Health and Human Performance at the University of Florida, Gainesville, Florida. Prior to coming to the University of Florida in 1990, Cato was Associate Professor at George Mason University (1983-1990) and Special Assistant Dean in the School of HPER at Indiana University (1980-1982). She earned her ReD in Recreation Administration and minor in Public Administration from Indiana University in 1981.
Cato has published in the areas of prevention and at-risk youth, financing and marketing parks, recreation and tourism, and leadership. She has done model and theory testing of variables contributing to resiliency. She served as lead editor of Youth at Risk: Targeting in on Prevention, an AALR project. Cato was the Principal Investigator for a $400,000, three-year prevention project, Project WISE-UP, which served at-risk, middle school youth. Her research has provided the foundation for many international and national presentations including the keynote address at the 42nd World Congress of the International Council of Health, Physical Education, Recreation, Sport & Dance (ICHPER-SD), Cairo, Egypt. Additional international involvements include the 2nd ICHPER-SD Asia Congress in Cebu, Philippines; 36th World Congress of the ICHPER-SD, Yokohama, Japan; and the ICHPER-SD in Limerick, Ireland. She was the Associate Secretary General for the 38th ICHPER-SD World Congress held at the University of Florida. Currently, she serves as a member of the AALR Board and chairs the NRPA, Gold Medal Judges Committee.
During the 2004 National Recreation and Parks Association Congress, Cato was inducted as a member of the American Academy of Park and Recreation Administration. Cato has received several additional honors including the 2002 E. B. Henderson Award of the Ethnic Minority Council of the American Association for Active Lifestyles and Fitness; 1999 Recipient of the Biennial Distinguished Scholar Research Award for ICHPER-SD; 1997 Southern District American Alliance for Health, Physical Education, Recreation and Dance Professional of the Year Award for her outstanding work with prevention and at risk youth. Additionally, she was recipient of the 1994 Teaching Improvement Award (TIP), College of Health and Human Performance, University of Florida.