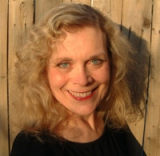 Awards
School of Public Health W.W. Patty Distinguished Alumni Award (2007)
About Margot Faught
Margot Faught has enjoyed a distinguished career in dance. She currently resides in New York City, and is a freelance arts in education consultant, a workshop facilitator, and a teaching artist for ArtsConnection. She also serves as Artistic Director for the New York City Department of Education's Summer Arts Institute, and is a Senior Associate with 'Together in Dance: Zalesky and Associates.'
Her career as a dance educator, arts project consultant/coordinator, and choreographer has spanned nearly 30 years. Faught's consulting work and teaching affiliations are many. They include: The Kennedy Center, The Center for Arts Education (NYC), New York City Arts in Education Roundtable, City Center (NYC), Casita Maria (NYC) New York Opera, New York City Department of Education, VSA Arts (nationwide including Indiana and Wisconsin), Young Audiences (San Jose, Indiana), Destine Dance Foundation (New York), and several universities and educational institutions around the nation and world. She is also affiliated with the San Jose Museum of Art, the Indianapolis Museum of Art, the National Dance Association, the National Dance Education Organization, and daCi (dance and the Child international). Her choreography credits include Kaleidoscope Dance Company of Seattle, the Phoenix Theatre of Indianapolis, and the Weathervane Theatre in Whitefield, New Hampshire.
In 2004, Faught received the Association of Teaching Artists' "Distinguished Service to the Arts in Education Field Award," a lifetime achievement award honoring individual artist educators who have not only pioneered the arts in education field, but also continue to actively work in the field.
Faught earned her bachelor's and master's degrees in physical education in 1979 and 1984 respectively from Indiana University.