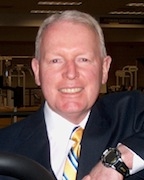 Awards
School of Public Health W.W. Patty Distinguished Alumni Award (2007)
About Thomas M. Davis
Thomas M. Davis serves as a Professor and Chair of the Division of Health Promotion and Education at the University of Northern Iowa. He joined the UNI faculty in 1979, and his primary teaching responsibilities include planning health promotion programs, worksite health promotion, stress management, and health promotion theory and application. His scholarly interests include health interests and behaviors of college students, and worksite health promotion in small municipalities. Prior to arriving to UNI, he taught at Central Washington University and the University of Wisconsin – LaCrosse. Other professional experiences have included serving as the Director of Education for Cedar Valley Hospice, a Medicare-approve hospice in northeast Iowa and as a consultation and education specialist for a federally-funded community mental health center in Yakima, Washington.
Davis has published more than 35 manuscripts in professional journals, proceedings and books. He has supervised 17 externally-funded grants, including 16 as primary investigator. He has made approximately 200 professional presentations, including 31 international presentations in seven foreign countries in Europe, Asia and Africa. He has delivered 34 national and 40 regional presentations in 27 US states. Davis travels frequently to international destinations on behalf of the University of Northern Iowa, including leading occasional student tours to the People's Republic of China. He also actively serves his community through his participation in the YMCA (past member and past president, Board of Directors) and is a regular exerciser. He is active swimmer, biker, runner, and participates in marathons, ultramarathons, and triathlons.
Davis earned his master's degree and doctorate in health and safety from Indiana University in 1970 and 1976 respectively. Previously, he earned his bachelor's degree at Central Washington University in 1969.