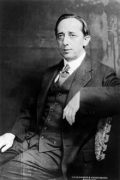 Awards
Honorary Degree (1954)

LL.D.
Doctor of Laws
Commencement
Bloomington, Indiana
Presenter: Herman B Wells
About Claude Gernade Bowers
Bowers' journalism career began at Terre Haute, Indiana newspaper. In Terre Haute, he became the Democratic candidate for the US House of Representatives. Though he did not win the election, the experience honed his speaking skills.
Bowers was an editorial writer for the New York World from 1923-31. He served as a political columnist for the New York Journal from 1931-33. President Franklin Roosevelt appointed Bowers as US ambassador to Spain in 1933.
He continued writing late into his life, completing My Mission to Spain in 1954, which chronicled his time in Spain as ambassador, covering both his travels throughout the country, and the politics that foreshadowed the Spanish Civil War.
He died of leukemia in 1958 and is buried at Highland Lawn Cemetery in Terre Haute, Indiana.