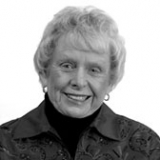 Awards
Bicentennial Medal (2020)
IUAA President's Award (2010)
Gertrude Rich Award (2000)
About Sandra Jones Obremskey
Sandra Obremskey has received two IU degrees: a bachelor of science in elementary education in 1958 and a master of science in counseling and counselor education in 1991. She attended the Bloomington campus for her undergraduate study and the IUPUI campus for her graduate study. Obremskey is a retired school counselor.
Obremskey and her husband, Pete, BS'58, LLB'61, founded the Herman B Wells (Boone County) Chapter of the IU Alumni Association. She serves on the chapter's board. A lifetime member of the IUAA, Obremskey served as the IUAA's vice chairwoman from 1996-97 and chairwoman from 1998-99. She also served on the IUAA Executive Council as a member at large from 1993-96. Obremskey served as a board member of the Woodburn Guild and as its president from 2000-02.
She has received the IUAA's Gertrude Rich Award, a community service award from the Boone County Chapter of the IUAA, and the IUAA President's Award. In 2020, Obremskey received the Bicentennial Medal in recognition of her distinguished contributions to Indiana University. Obremskey and her husband reside in Lebanon, Indiana.