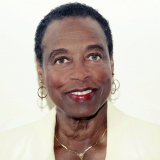 Awards
Distinguished Alumni Service Award (2017)
Gertrude Rich Award (2002)
About Roselyn R. Cole
Roselyn R. Cole, a 1969 graduate of Indiana University, is a speech and hearing therapist in Indianapolis. After years of working in the South Bend, Indiana school system, Cole moved to Indianapolis to operate a daycare facility, which has since come to be known as one of the city's premier early-childhood learning centers.
Since her graduation from IU, Cole has been a staunch supporter of all things IU. She is a charter member of: the Neal-Marshall Alumni Club; the IU Alumni Association (IUAA); and the IU Varsity Club. In 2002, Cole was awarded the IUAA's Gertrude Rich Award in memory of the IUAA's former Director, Claude Rich's wife, Gertrude.
Throughout her lengthy career, Cole has been dedicated to the growing field of child care and early childhood education.