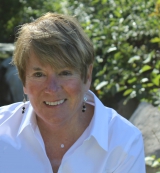 Awards
Gertrude Rich Award (2007)
About Audrey Hofelich Beckley
Audrey Beckley graduated from IU in 1964 and worked for 28 years as a medical technologist. She retired from Mid America Clinical Laboratories at St. Vincent Hospital in Indianapolis in 2002. Beckley has served on the IU Alumni Association Executive Council and the alumni board of the IU Division of Allied Health Sciences.
With her husband, Ken, who was president and CEO of IUAA from 2002-07, she co-chaired the Division of Allied Health Sciences development campaign, part of a $1 billion campus-wide campaign for Indiana University-Purdue University Indianapolis. Among their lifetime of contributions to IU,they provided a gift to establish an endowment for the state-of-the-art television studio in The Media School in 2016. The studio was named in their honor.
During her husband's term at IUAA, she participated in numerous university and alumni events on all eight IU campuses and throughout the United States. She is a member of Gamma Phi Beta sorority and has been honored with its Merit Roll Award for devoted and distinguished service.
Beckley passed away on August 19, 2020, at the age of 77 in Bloomington, Indiana.