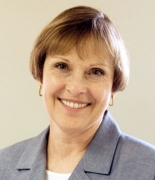 Awards
Bicentennial Medal (2019)
IUAA President's Award (2012)
Gertrude Rich Award (2009)
About Lynn V. Lewis
Lynn V. Lewis received a bachelor's degree in music education in 1966 and a master's degree in education in 1982, both from Indiana University.
Lewis began volunteering with the IUAA in the early 1990s. She was a board member with the Jacobs School of Music Alumni Association and became that group's Executive Council representative in 1992. From 1996-98, she was secretary for the IUAA Board of Managers. In 2000 she became vice chairwoman of the Board of Managers, working her way up to chairwoman in 2001. A life member of the IUAA, Lewis has been active with the Louisville/Southern Indiana Chapter of the IU Alumni Association, the Varsity Club, and the Woodburn Guild. She served on the IU Bloomington Chancellor Search Committee in 2000, and on the 2001 IUAA President Search Committee after President and CEO Jerry Tardy, BS'62, passed away in September of that year.
A retired school counselor and choral music teacher, Lewis currently works as development director for Bloomington-based Phi Delta Kappa International Educational Foundation. She and her husband, Ray, live in Clarksville, Indiana.