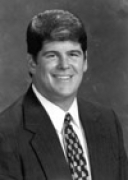 Awards
IUPUI Athletics Hall of Fame (2000)
About Tom Davis
Tom Davis pitched the first no-hitter in IUPUI's history and combined for a second no-hitter, the only no-hitters to date at IUPUI. He is the winningest pitcher in school history with a record of 29 wins and 10 losses. He was named All-District in 1984-85, All-Regional in 1985, and was twice named MVP.
After four years of competing as a member of the IUPUI baseball team, Davis joined the coaching staff, serving as assistant coach from 1985-1988. A 1993 graduate of the Purdue University School of Engineering and Technology, with a Bachelor of Science degree in Organizational Leadership and Supervision, Davis recently accepted a position as Medical Representative with Otsuka America Pharmaceutical, Inc.
A resident of Greenfield, Indiana, Davis is active in his community coaching youth soccer and basketball. He serves as Youth Softball Director for the Maxwell Youth League, as well as a member of that group's board of directors. Davis started a college-level, amateur baseball team, the Indianapolis Giants, which provides an opportunity for blue-chip players from central Indianapolis to compete at a high level. The Indianapolis Giants will approach their 300th career victory this year with fewer than 60 career losses.
A member of the IUPUI Jaguars Letter Club board of directors, Davis has also been active in recruiting fellow alumni to participate in the annual alumni baseball game. He and his wife, Nancy, are the parents of Emily and John.
"IUPUI has provided me with tremendous opportunities to learn and grow, both personally and professionally," says Davis. "I cannot thank IUPUI enough for the gift of higher education and the wonderful athletic opportunities I would have otherwise not had. The lessons I have learned have equipped me for a life journey of service to mankind...and that is what I believe is the ultimate goal of education."