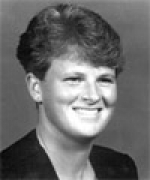 Awards
IUPUI Athletics Hall of Fame (1997)
About Kelly Fitzgerald-Cobb
Kelly Fitzgerald Cobb wowed IUPUI women's basketball fans from 1983 to 1987, earning membership in the prestigious 1,000-point club along the way.
During her illustrious career on the hardwood for the IUPUI, Cobb earned top-10 career records for scoring, assists, steals, field goals made, field goal percentage, free throws made, and free throw percentage. She was named to the National Association of Intercollegiate Athletics All-District 21 Team in 1985-86 and 1986-87 and tallied 1,188 points overall.
Cobb served as a graduate assistant coach for women's basketball at IUPUI in 1988 and was a recreation supervisor at the Natatorium at IUPUI for a year. After earning a bachelor's degree in general studies at IUPUI, she became director of the Limestone Girls Club in Bedford, a post she has held for nine years.
"IUPUI afforded me the opportunity to fulfill a life-long dream of continuing my basketball and educational career past the high school level," says Cobb. "The valuable experiences gained in the four years at IUPUI have made a life-long impression on me, and I'm thankful for the opportunity I was given through IUPUI academics and athletics."