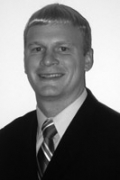 Awards
IUPUI Athletics Hall of Fame (2008)
About Ben Higginbotham
As a four-year starter for the men's soccer team, Ben Higginbotham's value to the program was not always visible in the post-game box scores. Known for his determination, grit, leadership and versatility on the field, Higginbotham becomes the fourth former men's soccer player to be inducted to the Hall of Fame.
He closed his career with 20 goals scored and 12 assists, tying him for seventh and eighth in each category, respectively. His 52 career points also stand seventh on the all-time list, while his 74 career starts are tied for the top spot in the program's Division I history. Amazingly, seven of his 20 career goals were game-winners, ranking third on the all-time list.
The numbers are somewhat misleading though. Higginbotham was IUPUI's go-to guy for the bulk of his career, often finding himself splitting time between offense and defense in the same match. During his senior year, he was named the Mid-Con's Defensive Player of the Week on Oct. 14 and followed that up by earning the conference's weekly offensive honor two weeks later.
A three-time All Mid-Con selection, Higginbotham was a sophomore starter on IUPUI's 2000 NCAA Tournament team. He led the Jags in scoring in both his junior and senior years, tallying nine goals and two assists in 2002. Higginbotham was twice named to the Mid-Con All-Tournament Team and was a three-time Mid-Con Player of the Week selection.
Higginbotham received his B.S. in Marketing from the Kelley School of Business in 2004. He now resides in Chicago and is a sales consultant for Novartis Pharmaceuticals.