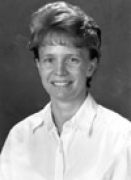 Awards
IUPUI Athletics Hall of Fame (2000)
About Sheryl A. Burris-McGlinsey
Sheryl A. Burris-McGlinsey is a native of Hawthorne, California and a graduate of Hawthorne High School. She began her career at IUPUI in 1985 and quickly established herself as one of IUPUI's top pitchers. She posted a 16-2 record in her freshman year and was named to the NAIA All-District Team. Although a series of injuries hampered her in both her sophomore and junior years, she still managed to win 31 games and make the All-District Team in 1987.
Sheryl's finest year was in 1988, when as a senior she led the team with 20 victories. She was again named NAIA All-District, but added the title of a First Team All-American. Upon the completion of her career at IUPUI, she ranked fourth all time in Earned Run Average at .98, second all-time in wins with 67, and second all-time in strikeouts with 277. Her career won-loss record was .780. In ten national tournament appearances, she stands 7-3, with the three losses coming at the hands of the eventual national championship team.
A 1989 graduate with a Bachelor of Science in Criminal Justice, Burris-McGlinsey has been an officer with the Indianapolis Police Department since 1988. She began her career patrolling the south side of Indianapolis, and in March 1999, became a general detective for the South District. She participates in IPD's Badge Buddies Program, a partnership with Riley Hospital patients who request a visit from a police officer. McGlinsey-Burris is the mother of two children, Erin and Ian. She says, "Four years at IUPUI gave me the foundation on which I have built my successful career in law enforcement. The quality academic program combined with the rigid discipline of sports has enabled me to achieve all of my life goals."