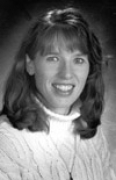 Awards
IUPUI Athletics Hall of Fame (1999)
About Marcy Bixler
A glance at the IUPUI volleyball record book provides proof of Marcy E. Bixler's outstanding contributions to the program. From 1985-88, Bixler earned a place on many of the lists of IUPUI volleyball records and remains tops in career service aces (208). She also ranks second in career kills (1273) and attack attempts (3276), third in service aces per game (0.51), fifth in career kills per game (3.15), sixth in career attack attempts per game (8.11) and eighth in digs (853). Her season numbers are also impressive. She holds the single season record and sixth-best mark for service aces per game (0.84 and 0.57), while also placing her second all-time in service aces (81) and fourth and seventh all-time in kills per game (3.72 and 3.48).
An outside hitter, Bixler became the first IUPUI athlete to be named National Association of Intercollegiate Athletics player of the week when she earned the honor in 1988. Also that year, she was named NAIA first-team All-American and District 21 player of the year. She was selected to the all-district team in both 1987 and 1988.
Bixler received a bachelor's degree in accounting in 1989 and now is assistant vice president at Irwin Mortgage Corp. In Indianapolis.
"It was great to get an IU degree and play volleyball," Bixler says. "It's also been exciting to see IUPUI grow and move up...and to have been a part of the beginning of that move."