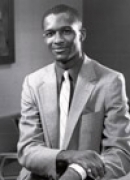 Awards
IUPUI Athletics Hall of Fame (1998)
About Jesse Bingham
From scoring to rebounding, Jesse L. Bingham did it all for IUPUI. A four-year stand-out for the men's basketball team, Bingham's name dots IUPUI's record book in numerous categories. He stands third in scoring (1,928), field-goal attempts (1,478) and field goals made (783), He also ranks second in rebounds (703), fifth in free throws made (340) and is tied for fourth in career steals (165).
Bingham twice made the National Association of Intercollegiate Athletics All-District 21 Team and was an NAIA second-team All-American in 1988-89. His name appears in the top 10 in IUPUI all-time men's basketball standings in scoring, rebounding, steals and free throws.
He received a bachelor's degree in physical education from IUPUI in 1989 and was a men's basketball assistant coach in 1989-90. Bingham now is branch manager and retail sales officer at Union Federal Savings Bank in Indianapolis.
"IUPUI was an introduction to the real world for me. I became more responsible and self-dependent, which instilled pride and the relentless striving for success," Bingham says. "I have built relationships that will last a lifetime."