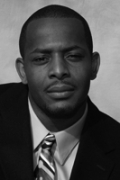 Awards
IUPUI Athletics Hall of Fame (2010)
About Matt Crenshaw
Matt Crenshaw finished his career as the program's all-time leader in assists and was responsible for the most memorable basket in IUPUI history. A three-year starter in the backcourt, Crenshaw finished with 510 assists and owns the top three single-season assist totals at the Division I level. His career assists averaged of 4.15 ranks second in the program's history and his 157 steals rank him sixth all-time.
Crenshaw helped escalate the IUPUI program to national prominence on Mar. 11, 2003, when he drilled the game-winning jumper in the Mid-Continent Conference championship win over Valparaiso, sending the Jaguars to their first-ever NCAA Tournament. A veteran of the U.S. Navy, Crenshaw was featured by numerous media outlets with the war on Iraq pending during that same time period.
The 6-foot-3 guard capped his collegiate career with Mid-Con Defensive Player of the Year honors in 2004 and led the league in assist-to-turnover ratio his final two seasons. With Crenshaw at the point, the Jags enjoyed back-to-back 20-win seasons in 2002-03 and 2003-04. He finished his playing career with 923 points and 422 rebounds in 123 games.
He later played professionally both in the U.S. and overseas before returning to IUPUI to join the coaching staff in 2006.