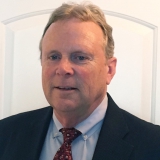 Awards
IUPUI Spirit of Philanthropy Award (2017)
IUAA President's Award (2000)
IUPUI Athletics Hall of Fame (1994)
About C.J. Roach
C.J. Roach is a former IUPUI Metros basketball player and the first four-year letterman in IUPUI history.
Roach competed in 103 consecutive games from 1972-76 as a member of the Metros squad, shooting 86 percent from the free-throw line and scoring 900 total points during his collegiate career. Roach was also IUPUI's first letterman in two different sports (basketball and tennis). He was the first No.1 singles and doubles player for the IUPUI tennis team and was named MVP for two seasons.
A senior tax manager with the Indianapolis office Ernst & Young, Roach is a member of the IUPUI Alumni Roundtable and charter member and past board member of the Athletic Club.
"IUPUI contributed significantly to my development as a professional, as well as a contributing member of the community," said Roach.