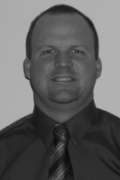 Awards
IUPUI Athletics Hall of Fame (2009)
About Andrew Wheeler
Andrew Wheeler becomes the first-ever former men's swimmer to be inducted to the IUPUI Athletics Hall of Fame. A member of IUPUI's inaugural team in 1998, Wheeler was a two-time All Mid-Con award winner and was a first team selection his senior season. A three-time Academic All-Conference pick, the Crown Point, Ind.-native was recognized among IUPUI's Top 100 and Top 10 in 2002.
In the pool, Wheeler held the 100-butterfly record until 2004 and was on the first-ever IUPUI relay team to win a conference crown in 2002. He still holds six of the fastest 15 100 butterfly times in the program's history. His name still dots the record book among the fastest 15 200 fly times as well. Following graduation, he competed in the 2004 AIRNORTH Swimming Championships in Liege, Belgium where he placed third in the 100-meter butterfly.
Academically, Wheeler graduated from the Kelley School of Business with a triple major in Business Management, HR Management and International Studies. He later joined the Air Force and is now a B-52 Electronic Warfare Officer in the 11th Bomb Squadron at Barksdale Air Force Base in Louisiana.