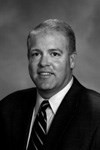 Awards
IUPUI Athletics Hall of Fame (2007)
IUAA President's Award (2005)
About Greg Wright
Greg Wright left his imprint on the IUPUI Athletics Department as a student- athlete, graduate assistant coach, administrator, and volunteer. His name is still etched throughout the men's basketball record book while his contributions are felt to this day.
On the court for head coach Bob Lovell's strong teams in the late 80's, Wright earned three varsity letters and still ranks 12th on IUPUI's all-time scoring list with 1,134 career points. He averaged 15 points per game as a senior and helped the Metros advance to the NAIA National Tournament and a 23-14 record. For his career, he hit better than 42 percent from three-point range and ranks fifth on the all-time list in threes made with 128. He also ranks among IUPUI's all-time leaders in assists and three-point percentage.
A two-sport athlete, Wright also competed as a member of the baseball team in 1987-88. In 1990, he was the recipient of the Mel Garland Award, the highest recognition given to a student-athlete at IUPUI.
Following his playing career, Wright spent one season as an Assistant Coach for Lovell. In the ensuing years, he has been closely involved with the Alumni Office and the Athletics Department, serving as both Assistant Director of Alumni Relations and later as Director of Development for the Athletics Department, where he was responsible for raising funds to help support all 14 varsity sports.
Wright is a charter member of the IUPUI Lettermen's Club (now Jaguars Letter Club), serving two terms as president, and currently serves as president of the Jaguars Athletics Club.
He also serves on the IUPUI Athletics Advisory Committee, the IUPUI Alumni Council, and the IU Alumni Association Executive Council. In 2005, he received the IU Alumni Association's President's Award in recognition of his volunteer efforts. He earned a Bachelor of Science degree in Physical Education from the School of Physical Education and Tourism Management in 1990, twice being named to the Dean's List. That same year, he also earned a two-year certificate in Business from the Kelley School of Business at IUPUI.
Wright resides with his wife, Nancy, and their children, Morgan and Luke, in Greenwood. He is employed by Herff Jones, Inc., as Area Sales Manager.
"As a transfer student, IUPUI gave me a second chance to fulfill my dreams of playing basketball and obtaining a college education. The academic and athletic opportunities have been instrumental in my personal and professional development. The relationships formed and the opportunities to stay connected continue to play a major role in my life," Wright says.