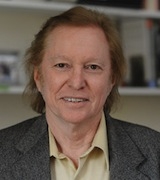 Awards
School of Library and Information Science Distinguished Alumni Award (1993)
About D. Peter Hernon
Peter Hernon, Ph.D. '78, is a professor at the Graduate School of Library and Information Science of Simmons College in Boston. He teaches in the areas of evaluation of library services, research methods, and leadership.
After obtaining his M.L.S. from University of Denver, Hernon's first job in academic libraries was as the academic reference librarian at University of Nebraska in Omaha. In 1975, Hernon left Nebraska to study for his doctorate at IU, where he graduated in 1978. He joined the Simmons College faculty in 1978 as an assistant professor, and later joined University of Arizona. Over the years, his research required more time on the East Coast, so when Simmons College offered a place for him at its library school again, Hernon returned in 1986.
Throughout his career, Hernon has become an oft-published writer. He has written over 350 publications, including 52 monographs. Currently, he is editor-in-chief of the Journal of Academic Librarianship, founding editor of Government Information Quarterly, and coeditor of Library & Information Science Research. Awards include the 1999 Highsmith Award from the American Library Association, the IU SLIS Distinguished Alumni in 1993, and the 2010 ABC-CLIO/Greenwood Award for Best Book in Library Literature. In addition to his teaching duties at Simmons, Hernon has been a visiting professor in the Department of Library and Information Studies at Victoria University in New Zealand with stints in 1998 and 2002.