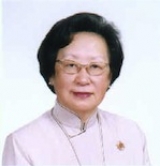 Awards
School of Library and Information Science Distinguished Alumni Award (1994)
About Margaret C. Fung
Margaret C. Fung was a university professor of library science in Taiwan. She was also a former president of the Library Association of China. After completing undergraduate studies at National Taiwan University, Fung then earned her master's degree from Maywood College in 1959 and later returned back to the United States for doctoral studies at Indiana University School of Library and Information Science.
Fung first worked at St. John's University and Harvard Yenching Libraries after getting her M.S.L.S., but she went back to the Far East in the 1960s. She worked at Hong Kong Chinese Univesity Library, restructuring its collections. Fung was named professor and director of the University Library at the National Taiwan Normal University in 1977, where she pioneered library automation in the country. She also taught at National Taiwan University, Catholic Fu-Jen University, Tamkang University and National Cheng-chi University. In 1984, Fung was appointed the executive director of the Chinese studies program of the Wang Institute of Graduate Studies in Boston. She served in that role through to 1987, and then became a visiting professor at University of Illinois and National Taiwan University until 1990.
In 1990, Fung was hired as a Member of Examination Yuan in charge of civil service, which she worked as for the next six years. Her exemplary work led to reelection as the Member of Examination Yuan from 1996 to 2002. She retired at the end of her second term. In the local community, Fung was the president of the Library Association of China from 1997 to 1999, and has worked with the Chinese Cultural Restoration Committee, the Chinese Women's League and the Ling-Yung-Shan Cultural and Educational Foundation. Fung is an honorary Board Director of the LAC and of the Chinese Association of Library & Information Education.
Throughout her career, Fung has published numerous works, including over a hundred articles, and books such as "Library and Information" (1979), "A Primer of Library Automation" (1981), "On Library and Information Science" (1982), "Guide to Information Science" (1984), and "Reflections on Civil Service System Library/Information Science" (1996). Awards include membership in Phi Beta Mu and Phi Tau Phi Scholastic Honor Society, and distinguished service awards by the Library Association of China, Chinese American Librarians Association, "Woman of the Year" in 1994, and Louise Maxwell Award of the Indiana University School of Library and Information Science by the Alumni Association in 1995.