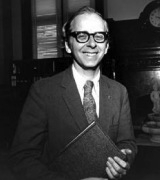 Awards
School of Library and Information Science Distinguished Alumni Award (1996)
About David A. Bucove
David Bucove was the former director of the public libraries in Monroe and Anderson Counties in Indiana. He received the SLIS Distinguished Alumni Award in 1996 and also served on the SLIS alumni board.
As director of the Anderson Public Library from 1969 to 1992, Bucove helped design a new facility when the library moved from an old Carnegie Library site into a Sears & Roebuck building. He was hired in the early 1990s to oversee a major renovation and addition to the Monroe County Public Library in Bloomington. The project was completed in 1997. While in Monroe County, Bucove was instrumental in establishing HoosierNet, a nonprofit organization that provides Internet services to businesses, nonprofit organizations, governments, and individuals in the community.
Bucove was a passionate supporter of the First Amendment and carried a copy of the U.S. Constitution in his pocket. He kept close track of library issues in state government and was a leader in the Indiana Library Federation for many years.