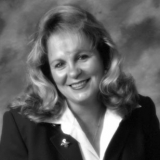 Awards
IUAA President's Award (2007)
IU Kokomo Alumni Hall of Fame (1994)
About Debra L. Fawcett
Debra Fawcett earned her associate of nursing degree in 1980 and her bachelor of nursing degree in 1988 from IU Kokomo. She was assistant professor of nursing at IU Kokomo from 1989-2008 and has been an active volunteer for the IU Alumni Association for a number of years. Fawcett served as the chairwoman of IU Kokomo's nursing alumni event, The Nightingale Dinner, for several years. She is an active supporter of Hoosiers for Higher Education, each year requiring her nursing classes to attend the Statehouse Visit Day. She currently works as the RN Manager Infection Prevention & Control at Wishard Health Services in Indianapolis, IN.
Fawcett has served as vice president and president of the IU School of Nursing Alumni Association Board of Directors and, during her presidency, she guided the association through a strategic planning process. Fawcett was the first regional campus representative to the board and was instrumental in bringing the regional campus perspective to the board's activities.
For her service to the IUKAA, the IUAA, the IU Kokomo campus, and to her profession, in 1994 Debra was chosen to receive the IU Kokomo Alumni Association's Distinguished Alumni Award — the highest honor the IUKAA bestows upon an alumnus/a of IU Kokomo.