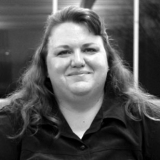 Awards
IUAA President's Award (2007)
About Jennifer McIntosh-Elkins
Jennifer McIntosh-Elkins graduated from IU Northwest with a bachelor's degree in Spanish and organizational communication in 1991 and a master of business administration degree in 1998. She was president of the Student Government Association in 1990-91. McIntosh-Elkins was also vice chairwoman and founding member of the All-University Student Association.
McIntosh-Elkins began her association with Hoosiers for Higher Education in 1991 and was a member of the first HHE delegation that traveled to Indianapolis to lobby state lawmakers on behalf of higher-education funding. She has served as an HHE member and community chair ever since.
McIntosh-Elkins is a longtime member of the IU Northwest Alumni Association and served as vice president in 2000-01 and president in 2001-02. She also served as an at-large member of the IUAA Executive Council from 2002 through 2005.