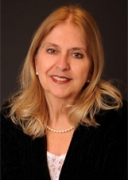 Awards
School of Nursing Distinguished Alumni Award (2011)
About Terri Whitt
Terri Whitt is a professor of nursing at Saddleback College in Mission Viejo, Calif. Whitt has also taught at Boromarajonani College, a four-year nursing school in Udonthani, Thailand.
Whitt is the creator and coordinator of Assisted Learning For All, a nursing procedures Website that includes podcasting for visual and auditory learners. ALFA reviews the entire span of nursing. The site provides nursing students and registered nurses with immediate nursing procedures via laptop, desktop, or iPod/iPhone technology in a concise and free environment.
Whitt has developed nursing outreach and education programs in Belize, Ethiopia, Honduras, and Thailand. Whitt has also taken medical equipment to many third-world countries, including Nepal and Belize. In her community, she organized a service-learning project where students from nursing programs in Orange County (Calif.) community colleges work with the homeless.
Whitt has earned a bachelor of science in nursing at Indiana University in 1970, followed by a master of nursing in 1975 from UCLA and a doctorate of education in 1985 from Nova Southeastern University.