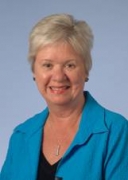 Awards
School of Nursing Excellence in Nursing Award (2011)
About Jan Ward
Jan Ward is the director of Lifelong Learning at the IU School of Nursing in Indianapolis, a position she has held since 1999. She oversees all of the school's professional certificate programs, web-based courses, and conferences and institutes.
Ward has served on the editorial board for the Journal of Nurses in Staff Development and the steering committees of the National Nursing Staff Development Organization and the Indiana Nursing Staff Development Organization.
She has earned three degrees from the IU School of Nursing — bachelor of science in nursing in 1966, clinical specialist degree in primary healthcare in 1978, and master of nursing in 1979.