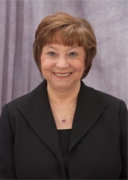 Awards
Bicentennial Medal (2020)
School of Nursing Special Recognition Award (2011)
About Barbara S. Mitchell
Mitchell was executive director of Nursing 2000 Inc. in Indianapolis from 1992 to 2010. Nursing 2000 is a not-for-profit organization that promotes and supports careers in registered nursing. Mitchell was accountable for operations of the organization, including strategic planning, program development, and fiscal management. She led the organization in reaching $1 million in cumulative scholarship proceeds for undergraduate and graduate nursing scholarships.
Previously, Mitchell was staff development coordinator at the IU Medical Center in Indianapolis. From 1969 to 1975, she worked as a staff nurse at several hospitals. She has served on the board of directors for the Central Indiana Organization of Nurse Executives, Nursing 200 North, and Spotlight on Nursing, as well as vice president of the Indiana Nursing Workforce Development Coalition.
Mitchell was awarded a Top 100 Alumni Legacy Leader Award and received the National League for Nursing's Award, Outstanding Leadership in Workforce Development. She is the coauthor of Collaboration for the Promotion of Nursing: Building Partnerships for the Future which was published by Sigma Theta Tau International. Previously, Mitchell was staff development coordinator at IU Medical Center, Indianapolis; Assistant Director of Parkview School of Nursing, Ft.Wayne; Faculty at Harper School of Nursing, Detroit; and clinical nurse at Beaumont, Toledo and Parkview Hospitals.
Mitchell has earned two IU degrees—master of education in 1980 and master of nursing in 1987—and a bachelor of science in nursing from Mary Manse College in Toledo, Ohio, in 1974.
In 2020, Mitchell was presented the Bicentennial Medal for her distinguished service to Indiana University.