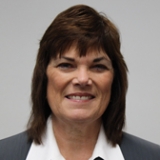 Awards
IU Kokomo Alumni Hall of Fame (2013)
IUAA President's Award (2010)
About Judy Golitko
Judy Golitko earned an associate degree at Indiana University Kokomo in nursing in 2001, which gave her the confidence she needed to continue. After pursuing a bachelor of science in nursing and graduating in 2003, she went on obtain her law degree from IU Maurer School of Law in Bloomington. Now, Golitko practices law with her son, Matthew, at Golitko Legal Group in Kokomo.
Her dedication to education and to the Kokomo campus has earned her the IU Alumni Association's 2010 President's Award.
A member of the IU Kokomo Alumni Association (IUKAA) Board of Directors since 2006, Golitko currently serves as vice president. In addition, she has co-chaired fund raising efforts for nursing alumni naming opportunities for the St.Joseph Hospital Clinical Simulation Center. She also is committed to her profession and is a member of several professional groups including The American Association for Justice and the American Association of Nurse Attorneys.