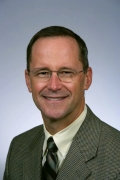 Awards
McKinney School of Law Distinguished Alumni Award (2012)
About Michael W. Wells
Michael W. Wells is an 1979 IU graduate and president of REI Investment.
Wells, a magna cum laude graduate of the law school, has been involved with several of the most significant real estate projects in Indianapolis, including Circle Centre Mall, Emmis Communications Headquarters and the JW Marriott. In addition to his real estate work, he manages the portfolio of real estate investments owned by REI Real Estate Partnership.
His community involvement includes serving as immediate past chairman of the Indianapolis Zoo; executive committee member of the YMCA of Greater Indianapolis, Indiana Chamber of Commerce, and Building Owners and Managers Association; immediate past president of Crossroads Council of the Boy Scouts of America; and a member of the Benjamin Harrison Presidential Site Board of Directors. He also is a member of the law school's Board of Visitors.