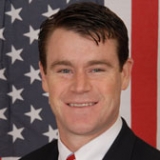 Awards
Bicentennial Medal (2020)
McKinney School of Law Early Career Achievement Award (2012)
About Todd Young
Todd Young is a 2006 IU graduate, and the 9th District Congressman of Indiana.
Young was sworn in as a member of Congress on Jan. 5, 2011, and serves on the House Armed Services and Budget committees. He graduated with honors from the United States Naval Academy in 1995 and accepted a commission with the U.S. Marine Corps. He was assigned to lead a Marine recruiting effort in the Chicago and northwest Indiana area, and during this time he earned an MBA from the University of Chicago.
After leaving the military, Young spent a year in England attending the School of Advanced Study in London. After returning to the U.S., he worked at The Heritage Foundation, and later as a legislative assistant in the U.S. Senate. He worked as a management consultant in Indiana for several years before attending law school. In 2020, Young was awarded Indiana University's Bicentennial Medal, in recognition of his distinguished contributions and longstanding support of the university.