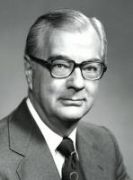 Awards
Kelley School of Business Academy of Alumni Fellows (1974)
About Donald J. Holmquist
Donald J. Holmquist earned his B.S. in 1942 and his M.B.A. in 1943 from Indiana University. He served as a Controller for Eli Lilly and Company in Indianapolis, Indiana. After his time at Indiana University, Holmquist served under General Omar Bradley in the Normandy Invasion, the Battle of the Bulge, and the occupation of Germany in World War II. He joined the Eli Lilly and Company in April 1946 as an international treasurer. Holmquist became the Corporate Treasurer in 1974, which he retained until his retirement.
Along with his career at Lilly, Holmquist was a licensed private pilot and real estate broker. He was a member of the Indiana Association of Certified Public Accountants and the Financial Executives Institute, the Indiana University School of Business Dean's Advisory Council, a Commissioner of the Indiana Commission for Higher Education, the board of directors of Ontario Corporation in Muncie, and the Indiana Secondary Market for Educational Loans, Inc. Holmquist was recognized by the Kelley School of Business Academy of Alumni Fellow in 1974 and made a Sagamore of the Wabash four times by three Indiana Governors.
Holmquist passed away on April 13, 2009.