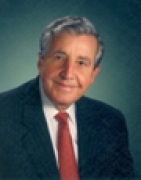 Awards
Kelley School of Business Distinguished Entrepreneur (1987)
About Don J. Hindman
Don J. Hindman is the Chairman and Chief Executive Officer of Clark Foodservice, Inc., the twelfth largest institutional foodservice distributor in the United States. After purchasing Clark Foodservice in 1976, a company with 12 divisions and sales of $18.5 million, Mr. Hindman expanded Clark through acquisitions to 17 divisions with sales currently in excess of $375 million.
Mr. Hindman was born in Spearville, Kansas, the son of a Presbyterian minister, and grew up in West Virginia. He finished one year at Indiana University, served in the United States Air Force for the duration of World War II, and returned to Indiana University to complete his education. (In April 1987, Mr. Hindman was honored with the Distinguished Entrepreneur Award by Indiana University).
Following his graduation in 1949 with a Bachelor of Science in Business, Mr. Hindman launched his career in a sales capacity at Inland Container Corporation of Indianapolis, Indiana. Inland transferred him to Chicago, Illinois, where he remained until leaving to join Packaging Corporation of America as Sales Manager.
Capitalizing on his sales management expertise in the packaging field, Mr. Hindman arranged bank financing and founded Time Container Corporation. Eventually he purchased and merged 12 other companies, changed the name to Time Industries, and then took the company public in 1970. Five years later, Mr. Hindman sold Time Industries to Jefferson Smurfit Group Ltd., and Irish company. Mr. Hindman's primary endeavor is managing Clark Foodservice which he plans to take public in the foreseeable future.
Mr. Hindman has served on the Boards of Directors of Porter Chadburn, Hertz, England; American Appraisal Associates, Milwaukee, Wisconsin; Continental Glass & Plastics, Inc., Chicago, Illinois; Iramerica, New York, New York; Jefferson Smurfit Corporation, St. Louis, Missouri, and Derlan Industries Limited, Toronto, Ontario, Canada.
Mr. Hindman is a former Chapter Chairman of the Young President's Organization, an active member of the Chief Executive's Organization, the Ocean Reef Club, Hinsdale and Card Sound Golf Clubs, the Casino Club of Chicago and the Beta Theta Pi Alumni Organization as well as other civic organizations in the Chicago area.
Mr. Hindman and his wife, Patricia, reside in Oak Brook, Illinois. They have four children, Jeffrey, Leslie, Sally and Donald.