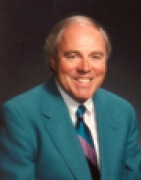 Awards
Presidents Circle Laurel Pin (2016)

Benefactor
Kelley School of Business Distinguished Entrepreneur (1988)
About D. Ames Shuel
Donald Ames Shuel is Chairman and Chief Executive Officer of HP Products Corporation in Indianapolis, IN. A native of Princeton, IN, Mr. Shuel earned a Bachelor of Science in Business Administration in 1958 from Indiana University.
He began his career at Sears, Roebuck and Co. as an Executive Trainee in 1961. Capitalizing on his management experience with Sears, it prompted him to purchase HP Products in 1965 and begin building the distribution company. Mr. Shuel is still actively involved with the growth of the company today.
The company is associated with the NPTA, ISSA, and Network organizations.