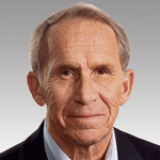 Awards
Kelley School of Business Academy of Alumni Fellows (1987)
About David T. Kollat
David T. Kollat is founder and President of 22 Inc., a company specializing in research and consulting for retailers and consumer goods manufacturers.
Kollat earned his Doctor of Business Administration degree at Indiana University. In 1965 he joined the faculty in the College of Administrative Sciences at The Ohio State University where he was a Professor of Marketing until 1972.
Dr. Kollat has co-authored six books and more than one dozen articles dealing with various dimensions of consumer behavior and corporate and marketing strategy. The book, Consumer Behavior, co-authored with James Engel and Roger Blackwell, was a pioneering text in the field that is widely recognized as sculpturing the discipline. The authors subsequently helped develop The Association for Consumer Research and The Journal of Consumer Research. Another book, Strategic Marketing, co-authored with Roger Blackwell and James Robeson, was the first volume to integrate marketing into corporate strategy from an enterprise perspective.
From 1972 to 1976, he was associated with Management Horizons, a research and consulting firm specializing in marketing and retailing. As Executive Vice President, Director of Research, and Director, he played an instrumental role in doubling the size of the business. Dr. Kollat co-founded the Retail Intelligence System, a syndicated research program currently serving over 200 companies; developed the first computerized data base of all publicly-held retailing companies; pioneered new demographic, psychographic, and store positioning techniques in retailing; and adapted strategic and long-range planning systems to retailing. In addition, he directed and participated in consulting and research projects for companies in most major sectors of retailing and consumer goods marketing.
From 1976 to 1984, he served as Executive Vice President of The Limited Stores, Inc. His responsibilities included marketing and strategic planning. In addition to having senior management, responsibilities for marketing and brand management for Limited Stores, he also developed and implemented marketing positioning strategies and marketing departments for Limited Express, Victoriaâ??s Secret and Lane Bryant.
In 1984, he was appointed Executive Vice President of The Limited, Inc., the holding company. His responsibilities included marketing and strategic planning. He was a member of the Executive Committee and all other major committees of the business.
In 1985 he was given an additional assignment as President of Victori's Secret Mail Order, an operating division of The Limited, Inc. During his 33-month tenure, sales increased five-fold while losses were turned into profits greater than any other operating division of The Limited as measured by return on investment.
During his 11 years as a senior executive (1976-1987), The Limited grew from a small $70 million regional apparel retailer into a $3.5 billion company with a portfolio of the leading apparel and lingerie brands. Earnings per share compounded at 43 percent year, and return on investment exceeded 40 percent annually, elevating The Limited to one of the premier retailers in America.
Dr. Kollat has been a member of the Board of Directors of The Limited, Inc., since 1976. He also serves on the Board of Directors for Cooker Restaurant Corporation, Cheryl & Co., Big Lots, Wolverine World Wide, Christy & Associates, Select Comfort, Starpower, Inc., Cone Mills Corporation, and Retail Forward.
Dr. Kollat is a member of the marketing committee of The Columbus Foundation. He also serves on the Oversight Board of the Blackwell and the Dean's Advisory Board of the Fisher College of Business at The Ohio State University. He is a Trustee of Columbus Children's Hospital, a member of the Budget and Finance Committee of the Hospital, and Chairman of Childrenâ??s Hospital Foundation.
He has been listed in Who's Who in America and Who's Who in The World since 1980.