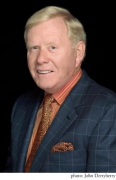 Awards
Kelley School of Business Distinguished Entrepreneur (1990)
About Richard W. Snyder
Chairman and CEO of SnyderCapital Corporation, a privately-held investment firm that makes equity investments in mid-sized operating companies typically through leveraged buyouts or recapitalizations. SnyderCapital was founded in 1994. Mr. Snyder is also a director of a number of companies resulting from activities of SnyderCapital Corp.
Mr. Snyder became non-executive chairman and majority shareholder of International Comfort Products Corporation ('ICP') in 1996. ICP, with annual revenues of $800 million-plus, was a manufacturer of HV AC equipment. International Comfort Products Corp. was sold to United Technologies Corporation (Carrier) in 1999.
Mr. Snyder founded SnyderGeneral Corporation in 1982, which, through organic growth and acquisitions, grew to $1 billion in annual sales. The company was the world's largest manufacturer of air filtration equipment and products, and the fourth largest North American manufacturer of heating, ventilating, and air conditioning equipment for commercial, institutional and industrial applications. SnyderGeneral was sold in 1994.
Previously, Snyder held various operating and executive positions with The Singer Company, Ford Motor Company, Cummins Engine Company, and Gould, Inc.
In 1988 and again in 1990, Mr. Snyder was appointed first by President Ronald Reagan and then by President George Bush to the Advisory Committee for Trade Policy Negotiations, an advisory body for US trade policy and negotiations. Furthermore, Mr. Snyder was appointed in 1992 by Secretary of Commerce Robert Mosbacher to the Federal Advisory Committee on the EC Common Approach to Standards Testing and Certification. He is also the former Chairman of the Air Conditioning and Refrigeration Institute, a past member of the Board of Directors of the Gas Appliance Manufacturers Association and a past member of the American Business Conference.
He received a BS degree from Indiana University and an MBA from the University of Detroit.
Snyder and his wife, Bobbi, have three adult children.