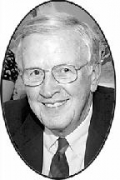 Awards
Kelley School of Business Academy of Alumni Fellows (1990)
About Kenneth C. Merrill
Kenneth C. Merrill was the president of Ford Motor Credit Company, a subsidiary of Ford Motor Company.
Ford Credit is the second-largest finance company in the world, and provides financing for more than five million retail automotive customers and more than 8,500 Ford, Lincoln-Mercury, and Fordaffiliated dealers in the United States, Canada, and Australia. Ford Credit and its subsidiaries also offer various insurance products and other financial services, including direct consumer loans.
A native of South Bend, Mr. Merrill received a bachelor's degree in economics from Cornell University in 1953 and an MBA from Indiana University in 1956. He joined Ford Motor Company's Finance Staff in 1957 as a financial analyst and later held a variety of analytical and managerial finance staff positions, including general assistant controller of the company. In 1973 he became controller of Ford's North American operations.
Mr. Merrill joined Ford's Office of the Chief Executive in 1979 as executive director for business planning. Five years later, he was named executive directorBusiness Planning and Trust Management for Finance Staff. In 1987 he was named president of Ford Credit. He retired in 1991.
A director of the Greater Detroit Chamber of Commerce, Mr. Merrill is also a member of the Financial Executives Institute, the Detroit Economic Club, Beta Gamma Sigma, and Psi Upsilon. He has served as president of the Plymouth (Michigan) Symphony Society, president of the Schoolcraft College Foundation, and vice chairman of the board of directors of the Detroit Inner City Business Improvement Forum.
Mr. Merrill lived in Plymouth, Michigan, with his wife, Helen, who is from Columbia City, Indiana. They are the parents of three children: Barry, Diane, and John.