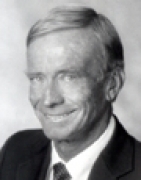 Awards
Kelley School of Business Distinguished Entrepreneur (1991)
About Sam M. Shine
Sam M. Shine is founder, president, and owner of Samtec, Inc., a $40 million corporation headquartered in New Albany, Indiana, that manufactures electronic connectors.
Mr. Shine founded Samtec in 1976, and began carving a niche in the electronic connector business in 1978 by identifying customers who needed the kind of highly individualized service that was not available from the billion-dollar industry giants. Samtec has developed a worldwide customer base of more than 2,500 companies, including IBM, Texas Instruments, Compaq, and Apple Computers. The company has three manufacturing plants: one in Sacramento, California, which supplies primarily the western U.S. and Canadian markets; a new facility in Cumbernauld, Scotland, for European markets; and the newly expanded plant in New Albany, which serves the Far East.
A lifelong resident of New Albany, Indiana, Mr. Shine graduated from Indiana University in 1955 with a bachelor's degree in business, majoring in marketing. Following service in Korea from 1956 to 1958, he was employed in a variety of operations and marketing capacities with a local electronic connector company until 1975. The following year he founded Samtec, Inc. with the assistance of his wife Betty, who was 'the other unpaid employee of Samtec in 1976.'
Mr. Shine serves on the board of the Southern Indiana Chamber of Commerce and on the Chancellor's Advisory Board at Indiana University Southeast. He also serves as a board and charter member of The Alliance: A Forum of Chairmen and Presidents, sponsored by the business school's Center for Entrepreneurship and Innovation.
Mr. Shine's family has strong IU connections. His brother, J. Robert Shine, graduated from IU in 1945 and has remained active with IU alumni activities. His wife Betty attended IU Southeast and their son, John B. Shine, earned a bachelor's degree from the IU School of Business in 1984.