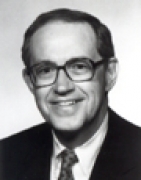 Awards
Kelley School of Business Academy of Alumni Fellows (1991)
About Daniel J. Meyer
Daniel J. Meyer is the retired president and chief executive officer of Cincinnati Milacron Inc., the leading American supplier of machines and systems to produce components from metals, plastics, and advanced composite materials. The company is a world leader in advanced manufacturing technology, including electronic controls, measurement and inspection systems, robotics, and manufacturing and electronic controls software. With recorded sales of $851 million in 1989, Cincinnati Milacron operates ten plants in the United States and five overseas plants, one each in Austria, France, and the Netherlands, and two in Great Britain.
Mr. Meyer joined the company in 1969 as director of corporate accounting. He advanced through a series of increasingly responsible positions, including corporate controller, treasurer, and vice president and then executive vice president for finance and administration. He was elected a director in 1985, was named president and chief operating officer in 1987, and was named president and chief executive officer in 1990. He also is a director of Star Banc Corporation, The E. W. Scripps Company, and Hubbell Incorporated.
Mr. Meyer holds a BS degree in electrical engineering from Purdue University and earned an MBA degree from IU in 1963. Prior to joining Cincinnati Milacron, he was with Touche Ross & Co.
Mr. Meyer serves on the general management council of the American Management Association and is a member of both the Purdue (University) Research Foundation and the American Institute of Certified Public Accountants. In his community, Mr. Meyer serves on the board of trustees of the Greater Cincinnati Chamber of Commerce, the United Way & Community Chest of the Greater Cincinnati Area, and the Bethesda (Hospital) Corporation, and is a member of the Commercial Club of Cincinnati.
Mr. Meyer and his wife Bonnie, parents of two grown children, reside in Cincinnati.