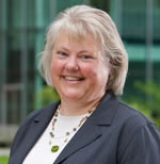 Awards
LGBTQ+ Distinguished Alumni Award (2023)
Maurer School of Law Distinguished Service Award (2011)
About Kellye Y. Testy
On her way to becoming Dean of the University of Washington School of Law in Seattle, Ms. Testy has become well-known for her inspiring commitment to diversity and social justice issues within the legal profession. She is the first female to become a permanent law school dean at the University of Washington, where she joined in 2009. She also serves on the Executive Committee of the American Association of Law Schools and as a board member of a number of legal and civic organizations.
Testy graduated summa cum laude from Indiana University Maurer School of Law, where she was the editor in chief of the Indiana Law Journal, John H. Edwards University Fellow, Chancellor's Scholar, and member of the Order of the Coif. After her graduation in 1991, she was a clerk for Judge Jesse E. Eschbach, U.S. Court of Appeals for the Seventh Circuit. In 1992, she joined the faculty at Seattle University Law School and became its dean in 2005. She became UW's law school dean in 2009.
Testy's scholarship and research focuses on corporate governance, business entities, leadership, and access to justice. She has received various honors and awards, including the President's Award from the Washington State Bar Association, the Washington Women Lawyers, the King County Women Lawyers, the Washington State Trial Lawyers Public Justice Award, and three Outstanding Teacher Awards. She received a Distinguished Service Award from Maurer School of Law in 2011.