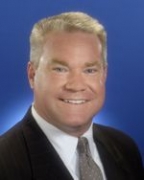 Awards
Maurer School of Law Distinguished Service Award (2004)
About Andrew B. Buroker
Andrew Buroker is a partner at Krieg DeVault in Indianapolis. He served as the national chair of the American Heart Association (AHA) in 2005. Buroker was elected by the AHA's delegate assembly during its annual Volunteer Leadership Conference in Washington, D.C.
In addition to serving as the national chair of the AHA, Buroker served as the development coordinator for the AHA and as a member of the National Administrative Cabinet, Corporate Operations Coordinating Committee, and Advisory Coordinating Committee. He is also a board member of the AHA's Greater Midwest Affiliate and recently served as chair of the Corporate Operations Coordinating Committee and the Advocacy Coordinating Committee. Buroker has been a member of the AHA national Board of Directors and the National Administrative Cabinet since 2002. A member of the Law School's Alumni Board, Buroker received the school's Distinguished Service Award in 2004. He is also the President Elect of the Maurer School of Law Alumni Association Board for 2012.
Buroker practices in commercial and real estate finance, real estate transactions, municipal government and environmental law. He chairs his firm's Real Estate and Environmental Practice Group and has significant experience in all aspects of commercial real estate. Buroker has served as the Zionsville Town Attorney for 10 years.