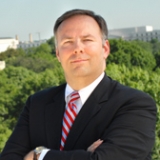 Awards
Bicentennial Medal (2020)
IUAA President's Award (2012)
Maurer School of Law Distinguished Service Award (2010)
About Gregory A. Castanias
Gregory A. Castanias is a partner and head of the federal circuit practice at Jones Day in Washington, D.C. He has argued three cases before the U.S. Supreme Court and is considered one of the country's leading intellectual property attorneys.
Castanias has served the IU law school in countless ways, from mentoring current and prospective students to an eight-year tenure on the school's Alumni Board. Castanias returns to Bloomington frequently for board meetings, on-campus interviews and speaking engagements.
Castanias was awarded the Maurer School of Law's Distinguished Service Award in 2010, and the IUAA President's Award in 2012. A proud alumnus of Wabash College, Castanias received that school's Richard O. Ristine Law Award in 2008. In 2020, Castanias received Indiana University's Bicentennial Medal, in recognition of his distinguished contributions to the university.