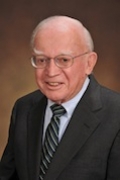 Awards
Maurer School of Law Distinguished Service Award (2008)
About Fred H. Gregory
Fred H. Gregory graduated from the Indiana University Maurer School of Law in 1953. Six months later, he opened his first law practice in Bloomington. In 1959, Gregory was elected Monroe County Prosecuting Attorney, where he served until 1962. After finishing his term, Gregory joined the law firm of Rogers & Rogers before moving on to become the Trust Officer for the Monroe County Bank. In 1979, Gregory opened another solo practice in Bloomington, where he continued to practice Elder Law almost exclusively.
For 55 years, he was an exemplary public servant and lawyer in Bloomington and Monroe County. A member of the John Ashton Committee, which initiated changes in the management of Bloomington Hospital and the construction of a new modern facility, Gregory also chaired a committee studying the need for a mental health facility in Monroe County, later serving as the first president and member of the Board of Directors of the South Central Indiana Mental Health Foundation. He has served as Judge Pro Tem and special judge in various Monroe County courts. In 2007, he received the Randall T. Shepard Excellence in Pro Bono Publico Award.
Gregory attended Princeton University and graduated with a bachelor's degree in political science in 1950, after serving with the 23rd Naval Construction Battalion in Guam during WWII. He died March 29, 2009, at his home in Bloomington.